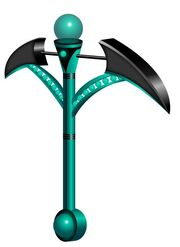 The
Neoteric Axe
was implemented in Content Patch 9, as a replacement to the
MAK Axe
. The axe allows players to edit the
Spawn Tower
as well as standard building. Currently this is the only alternative to
Console Commands
for editing the spawn effectively.
The axe was announced by DMPDesign as a competition for the axe's design[1]. At the end of the competition, three designs were chosen by the development team and the testers, these designs were then updated by DMPDesign and posted to the community for a decision.
The results of the competition are as follows:
1st: DYZFUNCTl0NAL - winning design
2nd: CreativeAssName - runner up
3rd: TheSilverhead - runner up
How it is earned
Edit
The Neoteric Axe is earned by taking a picture of your awesome world, which must meet the following requirements:
The picture must be high quality.
The HUD must be turned off in the picture.
1280x720 pixels is the preferred resolution.
The screenshot should be captured within the game but a high quality PVR screenshot will do.
The screenshot must be awesome enough to be used on the front screen of FortressCraft.
You must give explicit permission to allow the picture to be used for promotion of FC in any way.
The pic should be obviously impossible to make in Minecraft! (That means lots of Custom Blocks and Reflections off of high detail water)
To submit your screenshot, simply post it (inline) in this topic on the Developer Forums.
In addition to this, a very small number of users have also been granted the axe if they were offered or had its predecessor, the MAK Axe.
Also, if you get 1,000,000 views on a video showing FortressCraft in a positive light, you will earn the Neoteric Axe.
Similar to the Harrison Axe, once a code has been granted by DjArcas the Axe can be unlocked in-game through the console command 'Unlock < Code >'
Note: The axe code corresponds to the player's gamertag so it cannot be used by anybody else.
Ad blocker interference detected!
Wikia is a free-to-use site that makes money from advertising. We have a modified experience for viewers using ad blockers

Wikia is not accessible if you've made further modifications. Remove the custom ad blocker rule(s) and the page will load as expected.